Warning:
As of now, Portia is
fully booked
in November and has only
2 days with openings left
in December.
Don't want to wait for Portia? Or want to pay less and still get high quality work?
Get an appointment sooner, and for less money, by booking now, with one of her other artists! They've all received help and training from Portia! 😊👍 So you'll still be in good hands!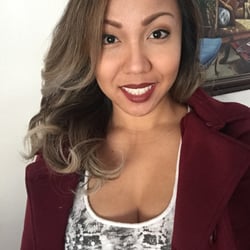 "Just looking through Portia's before and after photos convinced me that [Portia] produced the most natural results."
- Blair T. in her Yelp Review
A Perfect 5.0 Rating on Yelp
As of this writing my business iShapeBrows has an incredible, 91+ 5-star ratings on Yelp for a perfect 5.0 Yelp rating!! Of course, no artist is perfect, but if you want perfect gorgeous brows, I am one of the best in Las Vegas based on my Yelp rating. Your initial appointment will generally last 3 hours. At the beginning of the appointment I will talk with you to understand the type of look you want for your brows. Then for the remainder of the 3 hour appointment, I will carefully place each stroke to give you flawless looking brows that look perfectly natural. The results are stunning. Natural. And gorgeous.
91+ of my customers have left a PERFECT 5 star review on Yelp. You will be getting the best microbladed brows. Brows that are perfectly filled. No more gaps, bald spots, and sparse areas.
You will love how natural your brows look, just like so many other of our customers have said on Yelp
In their Yelp reviews, iShapeBrows customers say that they love how NATURAL their microbladed eyebrows look!!
Joanna A. said, "Portia is truly an artist. She shaped my brows BEAUTIFULLY with precision and tailored them perfectly to compliment my face and features. They are very natural which is the look I was aiming for, and ultimately they look even better than I expected-I just love them!"
Nadia L., a customer from California, said, "Love my brows! She [Portia] made them look very natural and full!"
You will also get brows that look NATURAL and FULL.
Full, defined, perfectly filled brows
Creating such a natural beautiful set of brows, is the product of extensive training. Portia has been trained by world class Microblading artists from San Diego, Beverly Hills, and London. I spend up three hours on your brows, making sure that every stroke is perfect in length and curvature.
For each single hair stroke I add, I look at three aspects of the hair stroke. 1) Hair stroke length. The hair stroke must be similar in length to the surrounding hair strokes, but not precisely the same length so as to mimic the natural variety of real eyebrow hair. 2) The curvature of each hair stroke. Natural hair is not perfectly straight, nor is it sharply curved. I match the curvature of each hair stroke to the natural curvature of your individual natural brows hairs. If you don't have any existing brow hair, I will mimic a the curvature of a natural brow hair. 3) I add each stroke at an angle that mimics both the natural angle of real eyebrow hair, and also the natural variation of real eyebrow hair. This meticulous attention to detail makes the hair strokes that I add nearly indistinguishable from real eyebrow hair.
Unlike me, many other microblading artists practice a generic brow pattern and then try to apply the generic pattern to your brows. This does not look natural. My approach takes more time to master, but the results speak for themselves. And 91+ perfect 5.0 testimonials suggest that my approach gives beautiful and natural results!
You will get attractive eyebrows with each hair stroke perfectly placed and shaped
I use a variety of microblading blades with different tip shapes to allow mimic the variety of eyebrow hair shapes that real natural brows have. For example, to draw more curved strokes I use a #18 U blade. Whereas, to draw straighter hair strokes I use a #12 angled blade. Blair T., said in her yelp review: "Just looking through Portia's before and after photos convinced me that she produced the most natural results."
iShapeBrows, a good choice if you want a natural look
Don't make a mistake with your brows. The results are permanent. I am one of the top artists in Las Vegas and my testimonials prove that picking iShapeBrows for your eyerbrows is a smart choice!
Book Now, Because My Schedule Fills up Quickly
Book now by texting or calling me at: (702) 885-9551 or by clicking book now below, because I only schedule three days of appointments per week. So my schedule fills up quickly.