Warning: As of now, it looks like Jeneta is fully booked in November and has <6 days with openings left in December.
Below Are Beautiful, Natural Powder Brow and Other PMU Results For Jeneta's Clients!
to see more photos of Jeneta's work, visit her instagram page
Because of her beautiful work Jeneta is quickly becoming one of the hottest Powder Brow artists in Las Vegas.
Jeneta is 13-Times Certified And Has 4+ Years of Experience Working on Brows
In 2018 Jeneta was certified by Anastasia Gerhardt in Eyebrow lamination in Germany
In 2019 Jeneta traveled 5673 miles to Lithuania to get certified for Powder Brows by top Master PMU Artist Veronika Linkute
In 2019 Jeneta was again certified for Powder Brows by Top PMU artist Erika Poskiene
In 2019-2020 Jeneta finished her PMU Apprenticeship under our own Master PMU Artist Portia Ijidakinro here in Summerlin Las VegasPortia herself has 41+ permanent makeup certifications
In 2020, Jeneta traveled to Los Angeles to again get certified by celebrity PMU Artist Lindsey TA for the Microblading technique
In 2020, Jeneta continued her PMU education by getting 11+ certificates of attendance from Master PMU Trainers at the Las Vegas PMU Conference. There, Jeneta learned advanced PMU techniques such as Nano Brows, Breezy Brows, Aquarelle Lips, and Aroela Reconstruction
All of these certifications and training is why Jeneta gives her clients gorgeous results like the above. (See more of her real client results here. )
What are Powder Brows?
Powder Brows is a permanent makup procedure to give your brows a natural, powdery makeup look.
Below is a close-up from one of Jeneta's customers.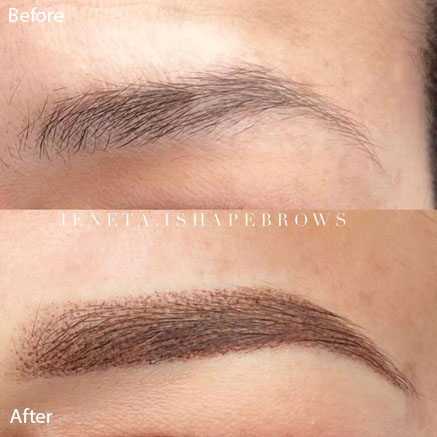 Unlike Microblading, which is done with a hand tool, Powder Brows uses a permanent makeup machine
A permanent makeup machine is similar to a tattoo gun. We use the PMU machine to put tiny pixelated dots of pigment into the upper layers of your skin. The result is a finished makeup look.

Powder Brows Give Your Brows More Definition
Powder Brows are a better choice than microblading if you already have full brows, but want more definition.
Powder Brows Are Also Good for Oily Skin
Powder Brows use more pigment than microblading. That is why Powder Brows are recommended if you have oily skin.
Oily skin pushes out pigment more than drier skin. So the extra pigment used for Powder Brows gives oily skin better, longer-lasting results.
(Note: You can also combine Microblading + Powder Brows (Shading) to get the best of both techniques.)
How Long Do Powder Brows Last?
With proper care, your powder brows can last 1 to 3 years.
However, your results will vary depending on your skin type, lifestyle, and how carefully you follow the aftercare.
Side Note: Powder Brows, Ombré Powder Brows, and Microshading Are All The Same Service
There are so many names for this technique that it can be confusing. 😩
But microshading, powder brows, and ombré powder brows are just different names for the same technique!